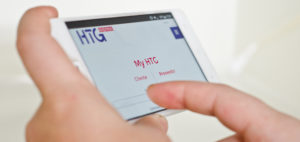 In HTG Express we strive to improve the service we provide to customers entrusting us with their urgent shipments. We use technological advances relevant to the logistical sector as well as increasing sources of information via the HTG Express application installed on drivers' smartphones.
We are improving our transport information system :
1. Regular updates sent by email for the 4 key stages of the shipment :
– Arrival at collection point
– Departing with goods
– Arrival at delivery point
– Goods unloaded
2. Complete transport tracking available using a link contained in the email. You can also share this link with your contacts at collection or delivery points.
3. My HTG : private customer zone accessible from our web site where you can consult all your ongoing shipments as well as previous completed shipments.
We can also provide a personalized tracking. At any time, our Customer Service department (sales@htg-express.com) can adapt the frequency of updates to meet customers´ needs.
In this way, every customer knows where their goods are at all times. A commitment that fits with our philosophy of maximum transparency with peace of mind.