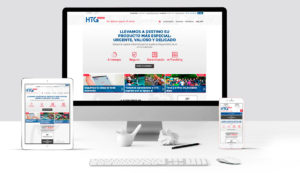 In HTG Express, we are releasing a new web page for improved navigation so you can find the information you are looking for related to our urgent industrial transport services. The web site address remains the same : www.htg-express.com.
We have simplified menus for a more intuitive and comfortable experience and we have reorganized the different sections. As a customer or supplier you will be able to access more quickly your private domains.
The change is not only visual, it is also accompanied with improvements in the contents and is part of a general communication strategy. Social networks have become a priority.
We have updated the visual aspect of the web page to align it with the graphic and corporate image that the company is undertaking whilst integrating mobile device applications.
In short, we are developing a corporate web site that is not only a showcase for the services that HTG Express offers but also can be used as an operative tool for the thousands of customers and suppliers that put their trust in our company.