Traditionally, road transport has been associated with the use of trucks, carrying large quantities of goods on their trailers by road. But as in the legend of David versus Goliath, vans are gaining the upper hand, as can be seen in the current composition of most trucking company fleets.
Data shows that, year after year, the number of vans is increasing, while the number of heavy goods trucks is slightly decreasing. As an example, information from the Spanish Traffic Department shows that 2.5 million vans are registered today; almost equivalent to the number of trucks.
This trend demonstrates the road transport sector´s preference in favouring the use of vans. But what exactly are the advantages of this vehicle that is winning the transport race?

Flexibility is key in road transport
Heavy goods vehicles have the distinct advantage of being able to carry a bigger load in a single trip, but they do so at the cost of flexibility, which is becoming increasingly important. Especially in professional scenarios, where urgent industrial transport, express deliveries or the loading of fragile goods are part of the regular supply chain, the adaptability that vans offer is increasingly valued.
Especially in professional scenarios, the adaptability that vans offer is increasingly valued.

In the so-called last mile, vans are taking over most of the final delivery distribution; also known as capillary distribution. The increase in online shopping, multiplied by the consequences of the 2020 pandemic, has generated a huge increase in demand for this transport service between retail and the end consumer (B2C). Flexibility is therefore one of the major keys to the success of road transport.
The most experienced professionals in road transport, such as HTG Express, offer a varied range of vehicles that are perfectly adaptable to any logistical need. These are the most common categories according to their characteristics: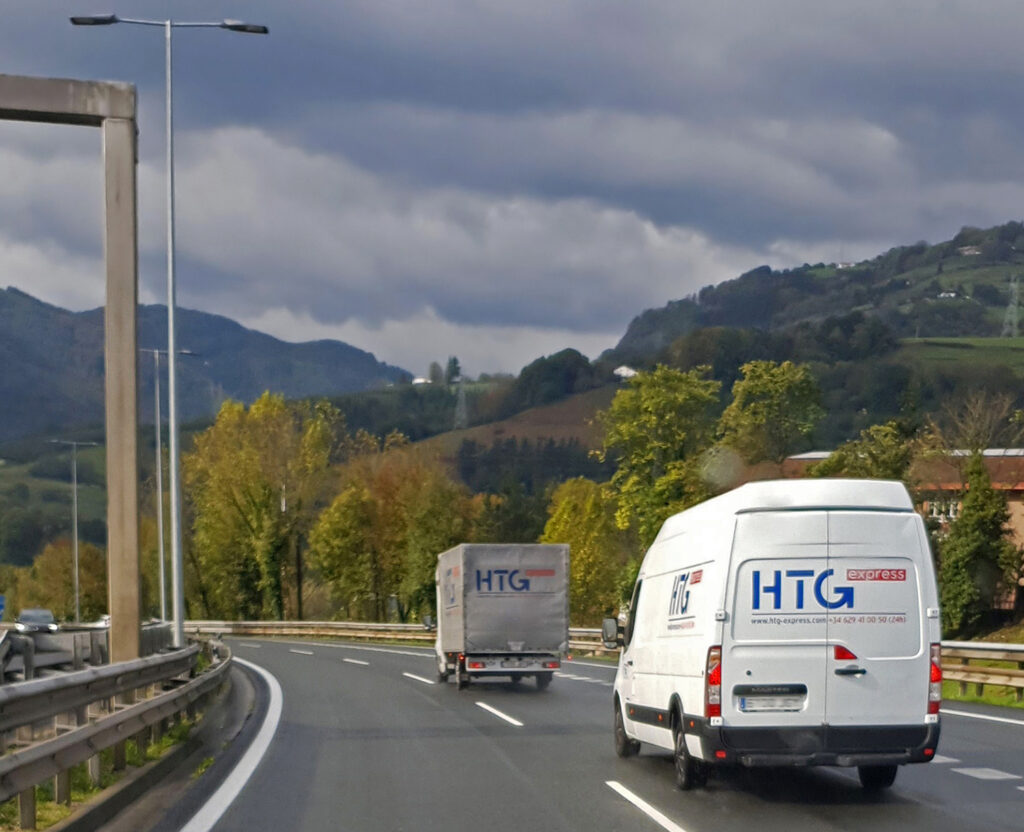 – Box van: with a load volume of 12m3, it is capable of carrying up to 5 europallets as long as the weight does not exceed 1250kg. Current legislation does not require the installation of a tachograph.
– Curtain-side van: larger, with 20m3 loading capacity, equivalent to 8 europallets. Its maximum load is 1000kg and is covered by a tarpaulin, making it excellent for carrying non-standard sized goods, such as industrial parts. It doesn´t require tachograph monitoring.
– 7.5T truck: these 35m3 vans can carry up to 15 europallets as long as they do not exceed a weight of 2800kg. As a Transport International Routier approved vehicle it must be equipped with a tachograph.
– Heavy goods vehicle: if you need to transport a large amount of cargo, there are different sizes of trucks capable of transporting from 3000kg up to 24000kg of cargo distributed over a maximum of 33 europallets. Heavy goods vehicles must also be equipped with a tachograph.
As can be seen, lighter goods vans don´t need to be equipped with a tachograph. Why does this provide more flexibility? Under current legislation, certain categories of transport vehicles are limited to a maximum driving time of 4 hours and 30 minutes, after which they must take a mandatory break of 45 minutes thereby also ensuring that a maximum driving time of 9 hours per day is not exceeded. This limitation makes the van the perfect vehicle for express deliveries.
In addition to having a vehicle that adapts perfectly to the needs of every moment, the service that accompanies it must be perfect. Companies such as HTG Express combine the flexibility of a door-to-door service with personalised attention, 24-hour tracking of the goods, the possibility of accessing information online at any time and the security of a 100% guaranteed shipment.