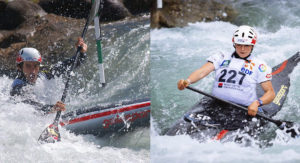 In HTG Express, we enjoy receiving news updating us about work, efforts and results from the people we sponsor, such as the canoe-kayakists Telmo y Klara Olazabal.
From her selection in the National Team this year, Klara Olazabal, hasn´t stopped for a minute. She went to Prague, Augsburg and Leipzig to compete in the World Cup and reached the finals. For the European Cup competition held in Slovenia, Klara reached the semifinals. At only 18 years old, Klara is now preparing the junior World and Under 23 competition that will take place from the 20th until the 23rd July in Bratislava.
Telmo continues training hard with a clear objective of improving his season that has been up and down. Whilst helping in the Senior European championship by assisting the coach, he did various training sessions on the Slovenian canal. Telmo also competed in the Spanish Cup in Ponts and won the gold medal in the mixed category.
As they both say, "We want more. Telmo is now focused on preparing the Spanish Championship in Sabero that will take place in August. And I´m concentrating on the World Championship Under 23 category".
Such is the life of sports men and women. In HTG Express, we support their efforts and their desire to excel.