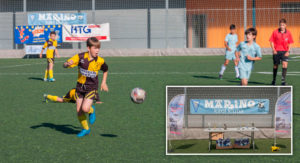 600 boys and girls – under 10 and under 12 – participated in the qualifier and final matches that took place on the 10th, 11th, 17th and 18th June for the Bidasoa football clubs championship. Teams coming from the Oarsoaldea, Donostialdea and Bidasoa regions to participate in the championship, played and enjoyed themselves in a friendly and respectful atmosphere.
Coaches, referees, event organizers as well as representatives from HTG Express witnessed the quality of the grassroots sport in our local regions and shared the excitement of the young football talents.
HTG, as sponsors of the junior Mariño sports club teams, gave out some of the prizes and congratulated participants and winners. We congratulate the Milan and Añorga winners of the 10th edition of the tournament. We are especially delighted with the teams we sponsored. We encourage them to continue their efforts in training and continue to the highest level of children´s football competition in the region.