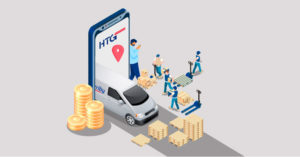 The search for continuous improvement has led us, in recent years, to implement many new features into our industrial express transport services. Digitization plays an increasingly important role in achieving efficiency and has generated new opportunities to support other projects such as Carriby.
This online platform designed for the management of professional door-to-door shipments throughout Europe, is now operational after an intensive creation process. Participating in such a project has been a very enriching experience.  We were able to contribute our knowledge in the development of this digital solution that optimises transport management.
Carriby derived as an independent platform separate from HTG Express shipments.  Its aim is to facilitate relations between companies and carriers. Although mainly oriented towards transport using light goods vehicles, it´s also focused on all types of shipments, even small loads.
Managed by an independent team, the new platform aims to offer solutions through transport process automation, as well serving as an ally to improve figures: companies can obtain real-time information and benefit from a better organization of their shipments, while suppliers can access requests for new loads to optimize their transports.
The system offers the added convenience of being able to manage all the paperwork (delivery documents, invoicing, tracking…) from any device.
At HTG Express, we seek to achieve excellence in each of your transports and continue to offer you the solutions you need.  With just a few clicks, you now have a new meeting point, in Carriby.
We´re waiting for you.