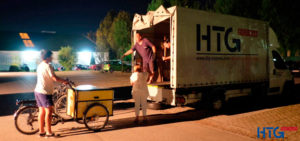 At this stage, the expeditions are getting closer to home. "Architecture" and "Gastronomy" are on two different "Camino de Santiago" paths travelling towards San Sebastian: the traditional one and the Catalan variant. The "Sexuality", "Biodiversity" and "Community" teams are travelling through different parts of France.
Over the last few weeks, "Community" has crossed the Alps twice thanks to HTG´s help and in a few days they´ll traverse the mountainous region of the Languedoc in the same way. They have had frequent reminders of the importance of benefitting from external help and the synergies that are possible along the way. A few days ago for example, the team was able to borrow tools from a local workshop to carry out improvised yet necessary repairs in Paris and Aspang Markt. Without this help, the expeditions would have been in trouble, but on the road they always found kind people offering a helping hand.
They´re nearly home, but before the 18th September when they arrive in San Sebastian, there´s still a way to go and plenty of people to meet. We´ll keep you updated here.