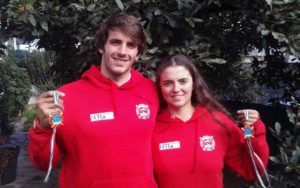 In HTG Express, we offer a personalized solution for the urgent transportation of your valuable or fragile goods. We also believe in supporting promising young local athletes from Guipuzcoa, such as Telmo and Klara Olazabal, in fulfilling their dreams and making a name for themselves in canoeing.  It´s a lesser known sport, far from media coverage, but that require hours of work and effort. 
In HTG Express, we would like to take this opportunity to congratulate these two young people who come from Irun´s Santiagotarrak Club, for their recent success in winning the Slalom Cup in the K1-Sub23 and C1 Junior categories respectively.  We wish them good luck for their sporting challenges in the next few months.
The enthusiasm and perseverance of these athletes in their pursuit of excellence is an inspiration to us all.  In HTG Express, we are happy to be able to play our small part in their project and follow their excellent example in pursuing our own challenges : working every day to improve, as demonstrated by the incorporation of technological improvements that guarantee a fully efficient service of urgent industrial transport.
Congratulations Klara and Telmo !