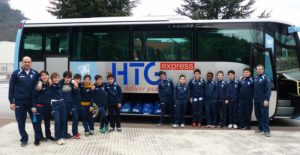 HTG´s relationship with sports club Mariño in Irún (Spain) goes back a long way. We share many of the same values that we apply to our customers such as hard work, dedication and results.
The Club was founded in 1991 with a single team. After 25 years of existence, it has its´ own football school with 150 children and 14 male and female teams, with a special mention for the 2nd division female team.
The HTG Express logo is displayed on sport bags and from this year on the side of the club bus. Our image is not only carried through the transportation of goods- but also in the hopes of these young children on their trips.
HTG Express is committed to continued learning though work beyond technical or sporting aspects. This dedication inspires our social corporate responsibility activities. Though sponsoring the youngest teams, we contribute to the growth of the community as a whole.