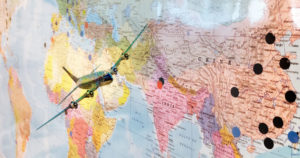 Over the last few years, our air service has developed and now we are able to offer express industrial transports across the world thanks to strategic agreements reached with international partners.
As a global player, we offer fast, efficient and expert solutions at an international level such as:
• Charter Flights: a custom solution for those critical goods, personalized schedule, flight and routes to fit the customer´s needs.
• On board courier: your goods collected and delivered send to any country by hand.
• Premium Air Cargo: organization of the collection and delivery from the airport with the first available outgoing flight thereby adapting transit times to our customer´s requirements.
The specialization of the HTG Express Airfreight Division has enabled us to consolidate in a short space of time standard routes from or to Europe, USA, China, India, Turkey and South Africa amongst others.
Many companies have entrusted us with urgent industrial transports thanks to our door to door (365 days / 24h hour) service where we collect goods and deliver according to our customer´s needs.
In the last few years, we have also carried out special transports around the world including destinations with specific characteristics such as Brazil, Mexico, New Caledonia or the Congo.
Whatever the destination, we are the urgent solution for your company