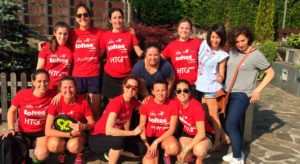 HTG Express sponsors the female and male junior padel teams of the Compostelle squash club. The club has seven courts, 4 competing teams and hundreds of members, amongst them some Galician champions from different categories.
Four padel teams represent the club in different categories in Galicia : 2 female teams, one of which is the 1st division and the other in the 3rd division; two male teams are placed in the 3rd and 4th divisions. Each team is made up of an average of 20 players that compete from January to the end of May.
In HTG Express, we support junior sports as well as values such as self-improvement and effort. As we approach the end of the competition season, we wish the athletes all the best. Good luck teams!