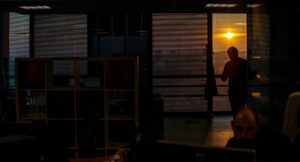 It´s 11 o´clock at night and we´re having a chat with Isabel, who works in the Vigo offices, about her work during the night shift for HTG Express.
Q: In what way is the night shift different from the day ?
A: Well, night duty supposes an additional effort compared to day work. During the night, the characteristics of the work we do is different, it´s more difficult to contact customers and the processes we use are different to the day time.
Q: What profile do the people have that work the night shift ?
A: We are professionals with a lot of experience. For the customer, any problem that occurs outside of standard working hours seems harder to solve; and for us as well. We need to know the business well to be able to give a quick answer to our customers and resolves issues efficiently that may arise overnight. Thanks to our experience and clearly defined procedures, we manage to keep operations calm and provide solutions in this environment.
Q: What do customers think of the service ?
A: When customers receive a call from they are surprised at first as they aren´t in the office. But they are also very grateful that we are there to solve problems and update them if any problems arise.