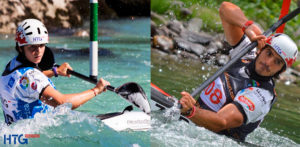 The siblings Klara and Telmo Olazabal started canoeing at a very early age. When they were barely five years old, these two youngsters from Irun in the Basque Country gave their first stroke of a paddle. Their father, who reached an international level in canoeing, used to take them with him on outings and has transmitted his passion for the sport.
It was just a question of time before they would join the Santiagotarrak club in their native Irun. They signed up as children and now they are already competing in European and world wide championships. Canoeing is a demanding sport and requires daily training. "We are very grateful to HTG Express because their help has made it easier to travel to places where we need to train as well as financing the vital material".
Dedicating yourself to a secondary sport is not simple. This is why we feel it is important to support these athletes within the context of our corporate social responsibility. Telmo emphasizes that "HTG Express understands and shares the canoeists core values of travel, working hard and achieving goals in time. This makes ours a better collaboration".
This summer, both have won medals in the individual or team trials in the Spanish Championship. They also took part in the World Championships Under 23 category where Telmo won a bronze medal in the team race. In the European Championships they participated in the same Under 23 category and Klara won a silver medal in the team race.
We want to take the brand name HTG Express as far as possible as we know that it´s a company that moves around the world. These siblings have new challenges on the horizon. For Telmo, 2017 will mean a big jump to compete in the senior category.