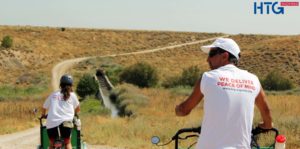 The « Gastronomy » convoy set off from Athens.  After crossing the Peloponnese and travelling up the Italian boot, they are beginning the month of August by jumping into the sea.  The expedition will cross the Mediterranean to arrive in Sardinia and continue to Marseille in France.  The "Biodiversity" convoy is crossing the Channel to the United Kingdom.  The remaining expeditions are criss-crossing Europe on their way home.
They have many kilometres behind them and have experienced many things.  Travelling though Romania and Andalusia, the cyclists encountered extreme heat, others on the contrary battled against cold and rain like in Denmark, or muddy and stony paths in Russia and Poland.  Families welcomed the travellers with smiles and baskets of fresh fruit.  Farmers talked to them about sustainability and grandmothers shared traditional recipes from across Europe … the list is endless even though they´re only half way through their journey.  The cyclists are starting to feel the fatigue. Their legs feel heavy and even the bicycles are beginning to complain from time to time … gears that won´t budge, break blocks that need changing or batteries that stop working.
It´s a difficult challenge but they keep going because they know that future experiences will be just as enriching and magical as those behind them.  They know that when they arrive in a new place, there will be somebody to welcome them with open arms.  Nearly every time they stop for a break, a person will come and talk to them and even though they´re tired they´ll be delighted to discuss the project. The cyclists are happy to carry on meeting new faces, listening to new voices, different points of view and different ways of experiencing the vibes of Europe.